Spotlight on alumni Contact in Amman, Jordan
If you'd like to get involved in supporting alumni activity in Amman or anywhere else, get in touch alumni.volunteer@manchester.ac.uk
Omar Alhalawani, Manchester Global MBA, 2017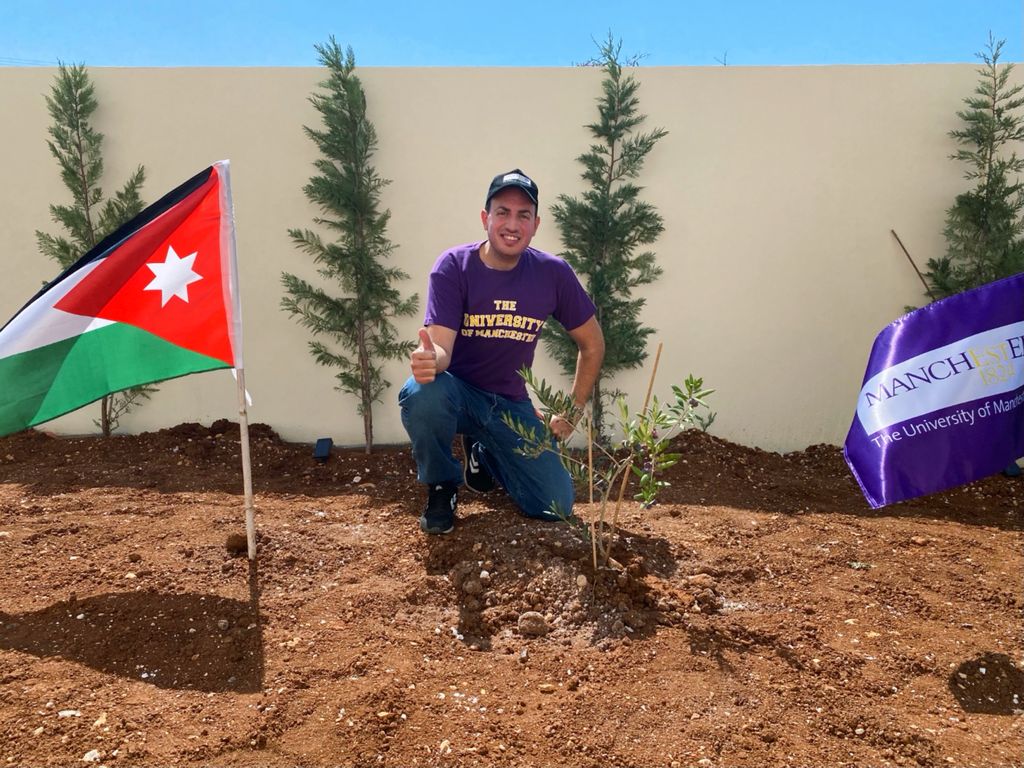 Tell us about where you are
I am Omar Alhalawani, I have been in Amman, capital of Jordan, for more than half of my life. I was in school in Amman before I did university study in the UK. After graduation I moved to Riyadh, Saudi Arabia, where I started my career as an electrical engineer in the construction and contacting sector. I did my Global MBA with Alliance Manchester Business School while I was working in Riyadh.
I moved back to Jordan in 2016 to run our family-owned business in electrical systems trading and distribution.
What I like about Jordan is how diverse it is. It's the centre of the world, connecting two continents: Asia and Africa. We are famous for our delicious middle eastern food, rich culture and tourist attractions. One of the most popular sites is Petra, known as 'Rose City', an archaeological site dating back to 300 B.C. which was the capital of the Nabatean Kingdom.
Tell us about your local alumni
Manchester has a history of attracting students from Jordan going back several decades now. We have alumni who are nearing retirement age now, all the way through to new students who enrolled this autumn. They've studied a wide range of subjects including engineering, medicine, dentistry, law, finance & accounting and political science.
It's a big opportunity for having an active alumni group here in Amman. There is a lot of networking value on offer here – connecting alumni who are newly graduated to those with established careers, and across so many sectors. I'd like to see us getting together every quarter and doing different kinds of things, for example focusing on social responsibility and environmental sustainability. I'd like to be part of what makes Manchester a world leader in social impact.
What gets you out of bed in the morning
I am really enthusiastic about my work as an executive engineer in the construction and energy sector. I believe that energy and electrical distribution will be the hot topic in the next decade. So, we are investing in innovation in this field by developing our range of offerings that will support end-users.
I have always believed that life is about challenges: filled with evolutions and revolutions. It's a matter of being resilient and adaptable to managing changes in your environment; applying innovation and hard work to get maximum value.
When I travel, I love to carry self-development books with me. I enjoy spending time with my family and the rest of the time I definitely enjoy different types of sports.
If you'd like to get involved in supporting alumni activity in Amman or anywhere else, get in touch alumni.volunteer@manchester.ac.uk
How we use your information
The University of Manchester Division of Development and Alumni Relations (DDAR) processes personal information in accordance with all relevant data protection legislation. Our Privacy Notice is available here; and further information about data protection at the University is available here. Please tell us how you want to hear from DDAR by contacting us on alumni@manchester.ac.uk or +44 (0)161 306 3066; if you are a graduate you can also manage your personal information online at https://network.manchester.ac.uk/.