Lopa Patel reflects candidly on her experience as a mentor for Manchester students during the 2014 Global Graduates programme at her office in London.
Lopa Patel MBE (Biochemistry, 1986) is a digital entrepreneur, and founder of the online South Asian lifestyle portal Redhotcurry.com, ecommerce site TheRedhotshop.com and equality and inclusion think tank Diversity UK.
I recently met four students from The University of Manchester under the 'Global Graduates' programme designed to give students the opportunity to meet with alumni from a range of sectors who can offer insights into their role and organisation, and talk about the skills and experience required to succeed. It also provides the opportunity to expand their personal network of contacts, and highlights the importance of networking in a career development context.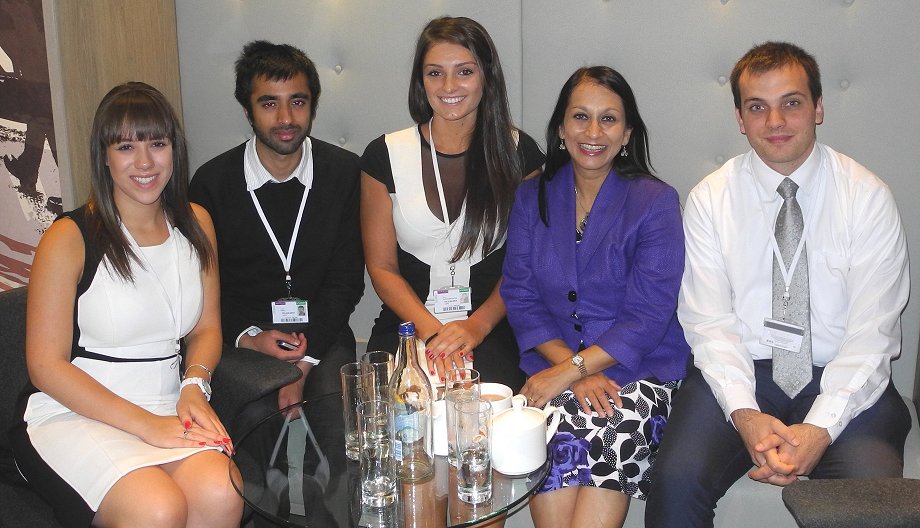 The participating students hope that they will:
Improve their knowledge and understanding of what employability means in practice
Develop their own skills set – communication/articulation, commercial awareness, self-management, team work
Acquire solid examples of the above skills to use in practice.
As the "mentor" (I use that term very loosely) I had an opportunity to look back over my entrepreneurial journey citing key times when my career path took an unexpected turn, or when I acquired a new skill or had a chance meeting with an individual who inspired me to follow a different route.
The students I met through the Global Graduates programme were bright, enthusiastic and asked insightful questions. I left feeling empowered that there was such a talented pipeline coming through into the business world of the future and was delighted to receive an email afterwards thanking me for my advice on "skilling up" before entering the jobs market.
The one question I always get asked is whether a student should continue studying for a post graduate degree or whether they should risk entering the jobs market on graduation with a Bachelors or Masters degree. The answer is always the same,  it depends! On the one hand, as a student it is easier to continue studying, but only if the post graduate qualification is going to help in your choice of career (such as research or teaching) or for re-training for a new career. The downside is that you may become over qualified for many graduate schemes and miss opportunities that may be out there right now. At some stage, all that knowledge and learning has to be applied to serving society, even if that involves serving customers in a hamburger bar as your first job!
The second question I always get asked is what to do if you can't find a job. The answer to that is that employers are really looking for people who can "do things" so volunteering, running societies, clubs and organisations, freelancing, interning, work shadowing, learning a new skill or even busking are far more interesting uses of your time than just spending the day filling out endless job applications. The focus at the moment is on coding (programming) given the pace of change, so my advice is to acquire and improve knowledge of technology and communication.
Manchester's Global Graduates were a delight and I hope that many more students will take the opportunity to talk to alumni in the future.