Yusuf Molade is a third year Economics and Politics student who recently participated in the Global Graduates Programme in Hong Kong. He shares his experience and what he"s taking back with him after this eye-opening trip.
To state that the summer of 2014 was busy would be an understatement. After being whisked halfway across the globe to Hong Kong in June, I spent what remained of my summer interning as a Tax Associate at Deloitte and then as a Content Curator at the Brooks World Poverty Institute.
The Global Graduate Scheme is a programme in which students are sent to various worldwide destinations to improve their employability. To successfully get on the scheme, I had to send in a written application and I was fortunate to progress to the assessment day in which we had to do a group exercise and a presentation. I was informed soon after that I had been selected to go to Hong Kong! Hong Kong was appealing to me due to its cultural distinctiveness, highlighted by its intriguing blend of Chinese foundations and British influences and its economic prowess; third only to London and New York in the world's top financial centres rankings.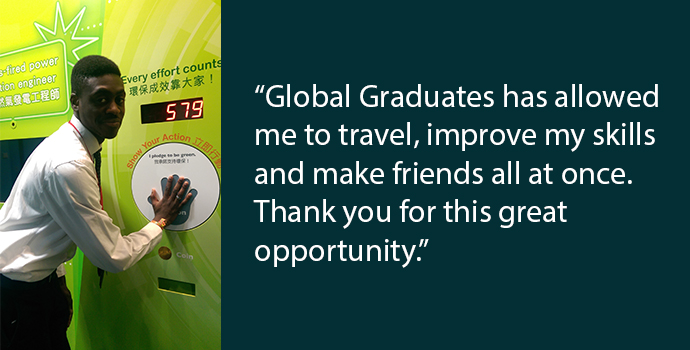 Whilst in Hong Kong, I met with alumni from a broad range of sectors, such as energy, accountancy, and education. We were able to ask questions and were often given tours of the facilities by the alumni themselves. Furthermore, we were invited to a networking event by Manchester Business School. As a group, we also went out for meals together and ensured that we took advantage of all the cultural activities we could in our free time, for example crossing the harbour on the ferry, visiting the clock tower and eating local street food.
In regards to my personal development, it presented an ample opportunity for me to develop a more global perspective as I was exposed to unique working practices (they take their feng shui seriously!). In addition, I got to obtain a first-hand account of how firms are expanding into mainland China.
I would definitely say that the programme has allowed me to develop a number of key skills that are desired by employers. Even from beginning my Global Graduate application, my communication and teamwork skills improved. It required me to think about concise yet thorough communication techniques. I began to really think about the way I was communicating with other and realised it was necessary for me to build trusting relationships with the other global graduates in order for us to work well as a team (this came in handy when asking the alumni specific questions about their sector or organisation!).
On a personal level, the advice provided to me was invaluable. I was really inspired by some of the advice I received in obtaining a post-graduate accountancy qualification as it will provide vast, in-depth business knowledge, act as a springboard for a variety of new career choices and furthermore, bolster my application should I chose to work abroad.
Prior to the trip, I had only flirted with the idea of working abroad, but it had been never something I had seriously considered. Being able to spend a week abroad and speak in person to those that work there, most of which had studied at Manchester, has made me seriously consider applying for posts abroad and this year I am even studying Chinese Economy!
I would most certainly recommend Global Graduates to anyone thinking of applying; I got to travel, improve my skills and make friends all at once. Thank you for this great opportunity!