Welcome
A warm welcome to the online edition of the 2016 issue of Network – the magazine for alumni of Alliance Manchester Business School.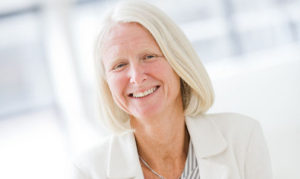 The last 12 months have been particularly memorable here at Alliance Manchester Business School and I have enjoyed every opportunity I have had to meet with you, our alumni, and hear about your successes.
As you will know, at the end of last year we became Alliance Manchester Business School following a landmark donation, and in recognition of the long-standing support to the University, from Lord David Alliance of Manchester. We are now one of only four UK business schools to be endowed in this way.
Since then, and with the support of Lord Alliance's donation, the transformation to the School has continued. Work is progressing apace on both the redevelopment of Alliance MBS West and the construction of our new hotel and Executive Development Centre next door. Part of the University's £1billion Campus Masterplan, both projects will enhance the learning experience for our students, delegates and alumni, and I look forward to welcoming you back to our new facilities in the future. You can see photographs and read more here.
As we continue to enhance our reputation as a leading centre for top quality business and management research, I was delighted that the donation has also enabled us to further invest in our research strengths across a range of disciplines. In 2015, we launched 12 Alliance-funded projects, which are already starting to produce results, and another eight were funded earlier this year. You can read more about each project here.
As a former student of Alliance Manchester Business School, you are in good company.
I was delighted that earlier this year I welcomed Simon Hayward, a recent DBA graduate, to launch his book on Connected Leadership at an event here at the School. Simon has written our feature article on authenticity, values, and connected leadership where he talks about his research, his book and his DBA – you can read it here.
As part of this year's graduation ceremonies, I was thrilled that one of the University's Outstanding Alumnus Awards went to alumna, Deborah Cohen MBE (MSc in Liberal Studies in Science, 1979). Deborah was recognised for her role in ensuring that the BBC excels in communicating science – in all its forms – to a variety of audiences.
We are always keen to stay in touch with you and share your successes and I look forward to hearing from many of you in the forthcoming months and years.
As part of our 58,000-strong alumni community, based across 176 countries, you are never far from the support, advice and networking opportunities on offer through local alumni groups.
There are a host of complimentary online resources available to you as alumni. We have recently updated our careers provision at your.manchester.ac.uk/ambscareers. They contain resources and tools designed for you to use at every stage of your post-graduation journey; including early-career stage resources for finding and securing the perfect role, mid-career transition support, insights from prominent and successful alumni and advice for building a non-executive portfolio.
Also this summer we launched our e-mentoring platform, The Manchester Network. It allows you to benefit from the expertise of your alumni colleagues from across The University of Manchester, through mentoring, email advice, CV review and more. This feature will be extended to current students from January. The application works in conjunction with LinkedIn and also acts as a great search tool for you to find and contact alumni with shared professional interests from right across the globe. You can find out about all the resources available and how you can get involved with the School and University at network.manchester.ac.uk.
As we look forward to our 2016/17 academic year, I hope to meet many of you as I travel to some of our international centres and of course, here in Manchester.
Professor Fiona Devine
Head
Alliance Manchester Business School
How we use your information
The University of Manchester Division of Development and Alumni Relations (DDAR) processes personal information in accordance with all relevant data protection legislation. Our Privacy Notice is available here; and further information about data protection at the University is available here. Please tell us how you want to hear from DDAR by contacting us on alumni@manchester.ac.uk or +44 (0)161 306 3066; if you are a graduate you can also manage your personal information online at https://network.manchester.ac.uk/.