The third sector: finding the model
Finding the right business model to achieve the goal of long-term financial sustainability is just as important for charities as it is for business and ultimately means the difference between success and failure in a highly competitive charity sector. The Alliance MBS Not-for-Profit project recently handed semester one Manchester MBAs this tricky dilemma and presented them with a charity urgently needing business analysis to move forward.
From Generation to Generation (FG2G) runs a school-based programme, called Intergen, which brings young and old people together in schools to support and inspire each other.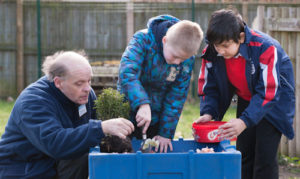 FG2G's great idea brought retired and older adults into schools to spend time with youngsters who may be under-performing, thereby reducing loneliness in older adults and giving some children the extra time and attention they need to flourish.
But amidst public funding cuts for schools and local communities, the charity's current business model suffered a significant cash shortfall in 2014 and its chances of survival looked bleak. A rescue package of emergency funding from a long-time supporter, the Tudor Trust, plugged an urgent gap but was no long-term answer.
The charity has a target to raise £100k in income this year with 40% of its income expected to come through donations and/or trusts. So the request to Manchester's Not-for-Profit MBA project was simple and urgent: "What are the sustainable business models which will help us achieve our income target of £60k from our Intergen programme?"
The current business model FG2G runs 7 clusters of 21 partner schools at 15 primary and six secondary schools in London and the North West. Funding comes from fees from the participating schools. Each cluster of one secondary school and two primary schools pays an annual fee of £3,000 and signs an annual or bi-annual contract with FG2G.
The cluster and FG2G hire a local coordinator (usually someone aged 55+) who is paid an annual honorarium of £2,000 plus travel expenses. In terms of the charity's internal operations the MBA team adopted desk research and the Business Canvas Model to analyse the charity's current business model and design a new business model and benchmarking to identify good practices and potential partners. The team used SWOT analysis, risk matrix, cost-volume-profit method and sensitivity analysis.
Data was gathered from FG2G staff, including coordinators and volunteers, head teachers in current partner schools as well as coordinators and volunteers at other organisations such as The Manchester United Foundation, The University of Manchester and Manchester Science Festival.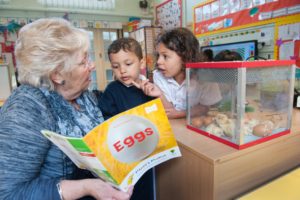 On the funding opportunities side the team applied the PESTLE framework to understand the health care and community landscape and gathered data from education and health policy experts at the University and staff at NHS England.
Qualitative and quantitative data was acquired from nine organisations and the team held regular client interactions with meetings, emails and telephone interactions and weekly status updates with the charity.
The findings
The investigation of the internal operations and benchmarking against good practices highlighted major concerns. The MBA students highlighted that the coordinators and volunteers were crucial in delivering the Intergen programme but the scarcity of these skilled human resources posed a major risk to the success of the programme.
The lack of an organisational presence in Manchester for the London-based charity was also highlighted as a barrier to recruiting human resources and expanding operations to new schools.
The MBA team considered the untapped potential in the large geography of schools available in both localities and recommended that with an increase in schools' fees of around £250 per annum and six new clusters added every year then break-even point could be achieved by 2019.
But with the quality of coordinators and funding being the two most critical factors in the core business operations, the team highlighted some specific and key next steps that the charity should take.
Recommendations:
Redevelop the coordinators profile and introduce a mentoring scheme to recruit and retain coordinators.
Obtain funding from alternative sources in the boroughs of Manchester, Salford and Oldham where estimated funding of between £8,500 and £77,000 was potentially available.
Forge new partnerships with Manchester Community Central (Macc), Salford Community and Voluntary Services and The University of Manchester for joint activities and improved local presence.
How we use your information
The University of Manchester Division of Development and Alumni Relations (DDAR) processes personal information in accordance with all relevant data protection legislation. Our Privacy Notice is available here; and further information about data protection at the University is available here. Please tell us how you want to hear from DDAR by contacting us on alumni@manchester.ac.uk or +44 (0)161 306 3066; if you are a graduate you can also manage your personal information online at https://network.manchester.ac.uk/.