Mancunians Virtual Bowling Tournament
MBS Alumni Association – Singapore
Participate throughout November 2022
How to take part
Form a team of at least four Manchester alumni (Manchester students also welcome) and set a date in November 2022 to hold your bowling event.
It is important there are a minimum of four bowlers and to qualify, each member of the group must be University of Manchester student or alumnus/na. There is no maximum no of bowlers.
Family and friends can join the game, but only a Manchester alumni/student scores may be submitted for this tournament.
How you organise your game is up to you: it can be as simple or as grand as you wish. It should take place in your own locality. You pay for your own games.
Scoring
Two games per bowler will be counted.
The highest scoring team of four bowlers wins the challenge trophy (pictured below).
The names of the winning team and the locality or alumni group you represent will be engraved onto the trophy. The trophy will remain in The University of Manchester Southeast Asia Centre (located in Singapore) for logistical reasons.
After your event, submit to The University of Manchester Southeast Asia Centre via connect@manchester.edu.sg
the name list of every participating Manchester student/alumnus/na
the top 4 bowlers' total score across 2 games each
Please ensure your entry is submitted no later than 23:59pm (GMT) on Wednesday, 30 November 2022.
Winning team to be announced in December 2022.
Photos
Please take of photos and send them to The University of Manchester Southeast Asia Centre connect@manchester.edu.sg. Photos may be published on university web and social channels and may be used for promoting alumni activity in the future.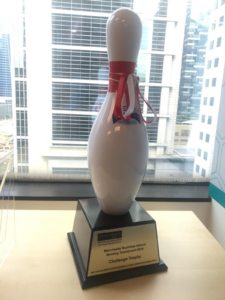 How we use your information
The University of Manchester Division of Development and Alumni Relations (DDAR) processes personal information in accordance with all relevant data protection legislation. Our Privacy Notice is available here; and further information about data protection at the University is available here. Please tell us how you want to hear from DDAR by contacting us on alumni@manchester.ac.uk or +44 (0)161 306 3066; if you are a graduate you can also manage your personal information online at https://network.manchester.ac.uk/.